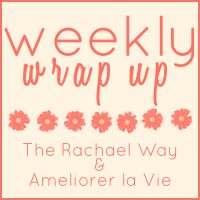 Ok seeing as I've decided to jump back into blogging full force this week, after taking an unplanned break from my whole month of blogging ever...I'd like to join up with the wonderful "Weekly Wrap Up" Link up put on by the lovely ladies Rachel and Lisa from @
therachelway
and @
Ameliorer La Vie
respectively.
Although this past week had been somewhat uneventful for me, my main highlight was making it an entire week only working my regular schedule rather than trying to cram 10+ hours into the workday! I even had a chance to take a much needed half day on Thursday while still maintaining all of my work. Super Awesome!
I had my second to last Advanced Business Writing class on Tuesday and I also went to the local Casino Friday night with one of my friends to try my hand at poker and blackjack. (Come ooon Mama's got a wedding to plan!) I went in with a set amount of money that I didn't want to go over and while I didn't come out a big winner, I at least left with SOME money still in my pocket! My friend tells me though, that MarylandLive Casino has some of the highest table prices she's ever seen, even higher than Vegas in some instances. So, if you're ever in the Baltimore, Maryland area and want to check out the casino at Arundel Mills, just keep that in mind.
This weekend I also got a chance to see some more progress on the new place I'm moving into (check back for a future post on that awesomeness!) The owners have been repainting everything and re-doing the entire basement, including adding a new door and walkway. Every time I think about this place and look at pictures I am beyond giddy about the prospect of a deck, a garden and the fact that I don't have to share a wall with my neighbors! (Seriously, that's a huge deal.) The downside is the kitchen is kind of so-so and I'm a little nervous about the dog getting up and down the spiral staircase into the basement but...oh yeah, it has a spiral staircase! I can't wait to start showing you guys how I plan to decorate the place!
Here are some of the pictures that I took while I was out there this past Saturday:
ZOMG you guys! A wood burning stove!!
So yeah, these are definitely some of the "before" pictures for the place. I'm still not exactly sure how I'm planning to utilize all of the space, and that yard people! It's wonderful! The landlord said I am totally free to put in a garden as well, as long as I maintain it. And those exposed beams! I'm squealing inside. Not a huge fan of the...fan...but that's ok. Maybe they will be ok with me changing out the light fixtures?
As soon as the snow clears I'll have to show an updated picture of the deck and the rest of the outside. I can't wait to see what it looks like in the spring!
Fun fact, that door and walkway did not even EXIST a month ago!
I'm looking forward to reading everyone else's week! :)