Well this has been quite a hectic week for me. I just moved to a new house and I'm trying not to feel too overwhelmed by all of the boxes and clutter that are currently taking up space in all my rooms. I'm also doing my "anti-snow dance" while looking for the Elsa of the Northeast because I really don't want another snow day tomorrow. As nice as another day of unpacking would be, I can't afford that time off of work. First world problems I suppose. Though I'm stocked up on beer, tunes and some delicious fresh focaccia bread from the local bakery AND I've got a fabulous wraparound deck that is just begging for a warm mug of tea during an early morning snow.
Here's what's going on with me Currently: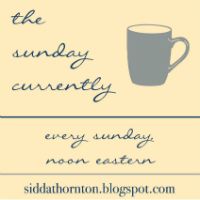 Reading: blog posts and decorating books. I have so many ideas for the new place, I hope I can share a lot of the ideas I use here on the blog.
Writing: I'm not really writing at the moment, too busy unpacking. Where are all my pens?!
Listening: to an episode of the Gilmore Girls. Love that show! And my fiancé has the Clone Wars cartoon on on his side of the FaceTime connection.
Thinking: about the kinds of flowers and plants I want to grow first in my new garden!
Smelling: fresh paint and the shampoo my salon uses since I just got my haircut today
Wishing: no snow!
Hoping: to have everything unpacked and hopefully set up for a housewarming party by the end of the month. My new dining table is getting delivered on the 27th and I can't wait to share this custom piece with friends and family. It's beautiful, unique and just plain cool.
Wearing: jeans and my rocking Mickey Mouse tank top. Unpacking and moving is quite a workout.
Loving: the view from my windows. All trees and seclusion and the occasional deer.
Wanting: packing elves to help me get all my stuff unpacked and put away.
Needing: packing elves to help me get all my stuff unpacked and put away.
Feeling: a little frazzled by the move but still pretty happy.
Hope everyone else is having a fabulous weekend! And if you're in the Maryland/PA/VA area, snow or no? Are you all prepared for what is hopefully the last snow of the season?